---
---
Treatment
In order to live a healthy life, it is important that we follow a healthy and balanced diet, balanced with the positive effects of supervised physical activity. We offer a PERSONAL TRAINING service to patients looking to acquire good physical health habits and achieve specific targets. Our team of physical trainers will devise a customised program that meets your specific needs and objectives.
Clínica Planas has created the PLANAS MEDICAL GYM, a private and exclusive gym that boasts a highly qualified team of trainers who will work with you to carry out your training programs under the supervision of a doctor.
Do you want access to a private gym, but you are not a patient at Clínica Planas? Ask for an appointment and we will make your PERSONAL TRAINING reservation at the Clínica Planas private gym.
---
Procedure
Our programs follow the following four steps:
Evaluation and diagnoses
We will start by making an appointment in order to get an understanding of your expectations and explain how can we help you.
In order to evaluate your fitness and to define your proposed targets, we will conduct some tests that will take into account gender, age, physical limitations (lesions) and life style. This is used to establish the appropriate type and rhythm of training.
If you come to us following an operation, for example if a doctor has recommended training to help you recover from the surgery, our doctors will advise on the most suitable training program.
Program design
According to the data collected during the evaluation tests, or if you come to us after an operation, we will design a customised program with individualised exercises which are adjusted to your specific profile.
System and development
We will choose the specific training methods (cardiovascular exercise, muscular strength exercises, stretching….) using different techniques and state-of-the-art apparatus (power plate, TRX, resistance bands, cardiovascular apparatus, NARL) and our team of trainers will adapt the specific exercise to match your fitness.
Evolution control
Depending on the requirements of each case, we will set up periodic tests to obtain information about how your fitness is changing, comparing the results each time with the previous set.
Outpatients' follow-up
We provide technological support to help our patients continue with their maintenance exercises. We follow you every step of the way.
PHYSICAL ACTIVITY PROGRAMS
Health Program
The health program is designed for anyone interested in achieving optimum physical and mental performance. Through our medical and sports screening, we will get all the information necessary to measure your health level and thus develop a customised program of appropriate intensity. Our professionals will help you to achieve a more healthy body and will provide some education to help improve your quality of life.
Medical check up (risk factors)

Treadmill test / working blood pressure

Special analytics

Nutritionist consultation / Special supplements

Physical trainer consultation (strength, coordination, balance, flexibility, anthropometric data)

Aesthetic program
Designed for anyone interested in improving specific body areas (gluteus, abdomen, legs, arms, cellulite, fluid retention). Our program includes exercises that treat the specific area in order to achieve your target as quickly as possible. This program is designed as a support for liposuction, abdominoplasties and after specific aesthetic body surgery.
Aesthetic surgeon consultation (professional assessment criteria)

Anthropometric data (body measures)

First consultation with physical trainer (physical data collection)

Slimming and weight loss program
The slimming and weight loss program is designed for anyone interested in reducing their body size or controlling his/her weight. Our program draws on the latest research into achieving weight loss through physical training, intelligently and without extreme effort. Furthermore, workouts are carried out alongside a customised diet in order to reinforce the effort and provide education in effective nutrition, if necessary. Note that not only does exercise increase muscle strength, but a fit muscular system increases resting calorie expenditure (consumes more calories). Physical training also improves other physical aspects such as coordination and soft tissue flexibility, which balance the body and give a more aesthetic muscle tone.
Medical check up (assessment of risk factors)

Treadmill test

OBESSGEN analytics (for general obesity)

Nutritionist consultation (to assess nutritional status)

Anthropometric data

Anti-aging program
This is designed for anyone interested in maintaining his/her health. The program is designed predominantly using the results of a medical consultation with the anti-aging department. We use the data to deliver a customised physical activity program to help patients to slow down the aging process and to increase their energy resources in order to improve their quality of life with the passing of years. It is also used to balance your chronological and biological ages.
30-minute express program
This is designed to assist patients with a specific physical aim (improving muscle tone, aerobic resistance, muscular elasticity or concrete muscular problems).
If your time is limited, this is the ideal program.
---
---
Expert opinion
Paco Cascajosa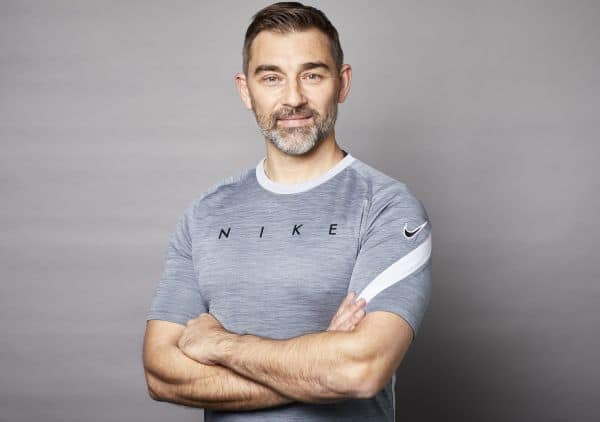 Although today there is an increase in the number of people that exercise on a regular basis, there is still a great lack of knowledge to implement training programs correctly. Here, it is where the personal trainer can guide and help you to achieve the desired objectives.
Curriculum
---
---
Accreditations Main