---
---
Introduction
Stomach reduction is a surgical procedure for the treatment of morbid obesity. It aims to achieve and maintain the loss of excess weight by reducing gastric volume and thereby limiting the ability to ingest food and the feeling of early satiety. This facilitates a behavioural change in eating habits.
---
Surgery duration
1-3 hours
Effect
Progressive up to 1 year
---
Procedure
Laparoscopy is the approach to the abdomen by introducing a special instrument through small incisions, creating room after insufflating gas. The surgical technique does not differ from the usual one. In those cases where technically or due to intraoperative findings is not possible to complete surgery by this route, a conversion to open surgery will be carried out.
The capacity of the stomach is reduced by isolating one part of it (where food passes) and stapling and removing the other part.
The Bariatric Surgery or Stomach Reduction procedure requires general anaesthesia, the risks of which you will be informed by the anaesthesiologist. The administration of blood and/or blood products may be necessary during or after the procedure. You will be given appropriate information about this and your consent will be requested.
In the postoperative period it may be necessary to stay in the Critical Care Unit, as well as using special techniques to monitor and maintain circulation and breathing during and after the procedure.
Due to the changes generated in the digestive tract, there will be a feeling of early satiety when starting to eat.
It is frequent that after losing weight you may require subsequent surgical surgeries for the reduction of skin flaps, mammoplasty, dermolipoplasty, etc...
Special situations to be considered
If you are a woman of childbearing age, you should know that pregnancy is not recommended during the phase of rapid weight loss, since the nutrition of the foetus may be affected.
After the procedure and during its follow-up, you will have to commit to follow the indications of Nutritionists and Clinical Psychology. They will try to change your eating, social and physical activity habits. Regular or continuous intake of nutritional supplements may be necessary.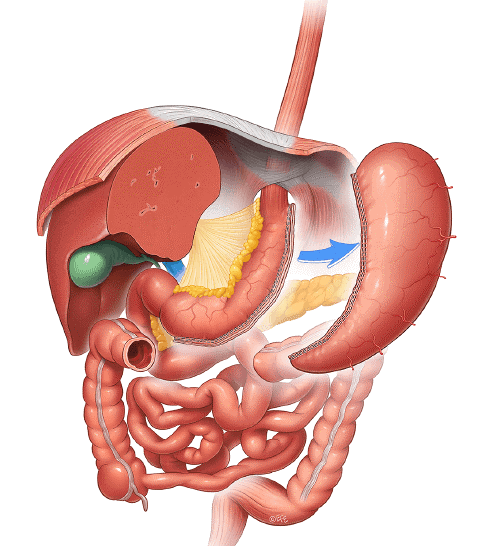 ---
Benefits
Morbid obesity is a metabolic disease resistant to conventional treatments. It occurs when a certain degree of overweight is exceeded, generating serious health risks (endocrine, circulatory, respiratory, osteoarticular and others), and even mortality due to the direct consequences of overweight, or due to the pathologies that it induces.
In the medium / long term, surgery will result in a sustained weight loss, and the possible cure or improvement of its associated medical problems (diabetes, hypertension, hypercholesterolemia, lower limb arthropaties, respiratory sleep problems, etc.) as well as the improvement of health-related quality of life (self-esteem, social role, ability to work, etc.).
It has also been shown that patients with obesity who undergo surgery have longer life than those who do not undergo it.
---
Riscs
Any medical performance has some risks. Most of the time the risks do not materialize, and surgery does not cause any harm or undesirable side effects. But sometimes it is not the case. That is why it is important for you to know the risks that may occur in this process or procedure.
Complications may occur in up to 1 out of 100 patients, and are usually resolved with medical treatment (medication, serums, etc.), and in some cases may require a new surgery, usually as an emergency. However, some of them have a risk of mortality (currently 0.02% similar to an appendectomy or cholecystectomy).
---
---
F.A.Q.
The main alternative to Bariatric Surgery consists of long-term compliance with healthy lifestyle habits that include a low-calorie diet and daily physical activity. Patients who undergo surgery are resistant to weight loss and show previous episodes of rebound effect after dieting.
---
Expert opinion
Dr. Oscar Gonzalez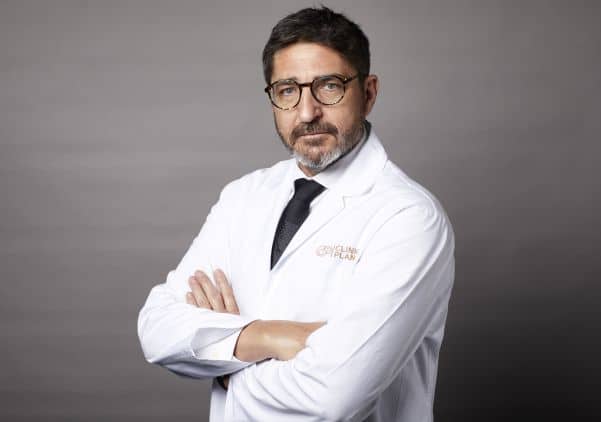 It is very satisfying to see how these patients not only improve aesthetically, but also in health and quality of life, gaining self-esteem and resuming activities that they previously could not do due to their overweight.
Curriculum
---
---
Accreditations Main