---
---
Introduction
If you begin to notice hair loss, it is important you visit a specialist. Only trichologists can help you to slow baldness effectively, and to indicate the most suitable hair regenerative treatment for you.

At Clinica Planas we have a wide range of highly effective therapies, from non-invasive treatments to surgery.
Hr3 is a combined treatment for men and women that stops hair loss effectively and returns its original strenght.
---
Treatment
This set of 3 therapies (medical treatment, LLLT device and nutricosmetics) makes the Hr3 a multidisciplinary treatment of proven effectiveness to fight alopecia and revitalize hair.
1. PRP medical treatment, mesotherapy or Finasteride
2. Low level laser therapy (LLLT) (cap device)
3. Treatment with Hairox plus: high powered nutricosmetics
1.
Hair Growth Factors
is a technique of Active Hair Biostimulation made of Platelet-Rich Plasma (PRP) of the same patient, which works at a therapeutic and preventive level; and whose objective is to stimulate new hair growth and prevent hair loss.
The application of growth factors on the scalp will help the hair follicle to activate, the transformation of collagen type I into collagen type III, and the appearance of new blood vessels, by stimulating new hair growth and preventing the loss of the existing one.
Mesotherapy is a valuable tool, with a wide range of multiple active agents or medicines for the treatment of many types of alopecia.
It is a simple and fast method carried out under local anaesthesia. The treatment consists of infiltrating the active agent or drug through microinjections directly into the scalp of the affected area by using a thin needle. The most used active principles are: vitamins, biopeptides, antiandrogens, non-reticulated hyaluronic acid, and corticoids.
Finasteride is an anti-androgen medication, well-known as a pharmacological basis, and efficient in the treatment of androgenic alopecia, which stops hair loss and stimulates the hair follicles growth.
2. Low level laser therapy (LLLT). Hr3 is a cap- shaped device, whose objective is to promote any medical procedure to treat not only the common androgenetic alopecia, but also diseases such as planopilaris lichen or hair aging. LEDs stimulate cells from different areas of the skin, according to the chosen wavelength and its effectiveness in treatments for alopecia. Several studies of renowned international teams of dermatologists and trichologists have found it effective. HR3 is a cap-shaped device with a discrete design that allows the alopecia treatment at home in an easy and comfortable way.
3.
Treatment with Hairox Plus.
This is a nutricosmetic that inhibits the negative effects of the 5-a reductase enzyme, responsible for the conversion of testosterone into dihydrotestosterone (DHT), which generates enough collagen and elastin fibres to help the anchorage of the cover that supports the feminine and masculine hair fibres. This supplement for hair treats androgenic alopecia due to nutritional deficiencies, and stress.
---
Post-treatment cures
It does not require any special care different from the personal hygiene routine, and you can keep doing your usual activities after the treatment. In case of infiltrations, it will better to start physical activity 24 hours later.
---
Benefits
76% of hair repair
90% stop hair loss
84% hair thickening


---
---
F.A.Q.
The treatment results start being noticed after the third month of treatment, and improve progressively up to 18 months. They are maintained if you keep following the same pattern.

In case of oral and topical medication, and the application of low level laser therapy, it is very important that the patient follows the pattern as a routine from home to keep continuous stimulation to improve hair condition. So far, these types of hair therapies were carried out at a clinic, but the HR3 allows treating alopecia comfortably at home or in somewhere else.

---
Expert opinion
Dr. Dorian González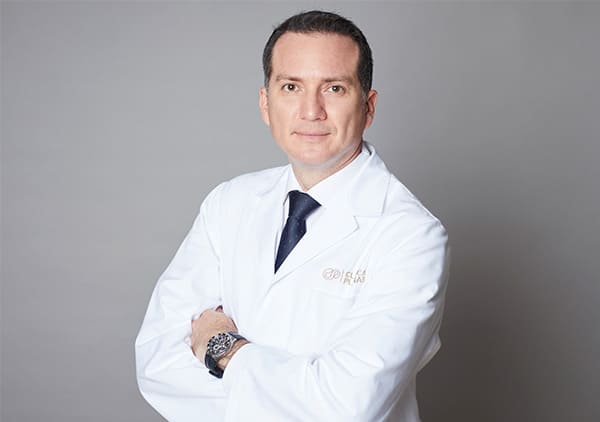 This device of therapy with LEDs in a cap is an effective and very comfortable treatment for alopecia that allows following it at home. Its aim is to enhance any medical treatment for common androgenetic alopecia and hair aging. This device is combined with a medical treatment and nutricosmetics, to maximize its effect.
Curriculum
---
---
Accreditations Main