General Medical Examination
General Medical Examination

---
---
Treatment
Preventive medicine is a medical specialty whose aim is to avoid the occurrence of disease and to heal it once it has occurred.
It aims to detect and localise diseases that have not yet occurred but that we know will appear, as well as to treat existing diseases at an early stage so as to avoid its development.
Disease prevention, its diagnoses and early-stage treatment are the best means of achieving a long and healthy life.
Clínica Planas´s preventive medicine and early detection unit, directed by Dr. Ruperto Oliveró, consists of a large, multidisciplinary team of specialists who are solely dedicated to carrying out medical check ups. It boasts state-of-the-art technology for the diagnosis of any disease or lesion. Clínica Planas´s services and equipment enable patients to carry out all their medical tests at the same centre and on the same day.
---
Procedure
What is a general medical examination?
A general medical examination, or health check up, is a comprehensive concept in which a team of specialists in different areas of preventive medicine work together. These professionals have access to the latest technology with which to study the patient´s health and identify any risk factors that may compromise his/her health in the future.
Clinica Planas´s health check ups are tailored for each patient. Patient and doctor work together to establish which diagnoses and tests should be carried out in order to achieve the final aim, which is PERMANENT TOTAL HEALTH. Age, gender, family medical history and patient´s own medical record will be the pillars on which each case is customised.
Clínica Planas offers state-of-the-art technology for carry out health check ups, including specific analytical tests, cardiological and digestive exams and endoscopy tests. Thanks to high image resolution techniques, these tests are able to provide a precise evaluation of each case.
After the health check up, the general medical examinations´ director will carry out a "FACE TO FACE" with the patient. This meeting involves no machinery, no analysis and no diagnostic techniques. It is an evaluation of the results between just the patient and the doctor. Here, all the data that has been collected is checked and a final diagnosis is made. Lifestyle habits are changed, treatment is proposed and future actions are defined. At this point, just you and your doctor are aware of your general health condition.
Health check ups should be tailor made, carried out comprehensively during the course of a single day and should be treated with the utmost confidentiality.
Types of health check ups
Complete general medical examination:
Blood and urine analysis
X-Ray of thorax (Smokers)
Echocardiography
Functional respiratory tests
Treadmill test
Doppler of the supra-aortic vessels
Gastroscopy with sedation
Colonoscopy with sedation
Abdominal ultrasound
Renal-vesicular-prostate ultrasound
Breast ultrassound
Obstetrical ultrasound
Bone densitometry
Bilateral mammography
Tailored health medical examinations
This is a general medical examination which is adapted to the situation and needs of each patient. Specific tests are carried out taking into account each special case.
Prevention and early detection programs
Early detection of colon cancer
Prevention plan for cardiovascular risk
Early detection of cancer of the prostate
Lung cancer prevention
Complementary tests and treatments
Anti-aging
Sleep examination
Anti smoking treatment
Comprehensive skin study (Skin cancer prevention)
Psychology
Psycho-oncology
Nutritional Study
---
Benefits
Clínica Planas´s health check up programs enable us to precisely evaluate each patient´s health condition. This helps to:
Get ahead of ourselves so as to achieve the best health condition.
Diagnose and treat asymptomatic diseases before they appear, in order to achieve healing.
To diagnose and to treat symptomatic and already declared diseases to achieve healing, as well as to avoid further development and repercussions on other organs or systems.
To identify risk factors that could compromise our future health.
---
Multidisciplinary medical team
Dr. Ruperto Oliveró - Head of the Preventive medicine unit
Dr. Ramón Abad - Digestive endoscopy
Dr. Rafael Cecchi - Cardiology
Dr. Antonio Doménech - Radiology
Dra. Esther del Moral - Neurology
Dr. Josep Morera – Pulmonology
Dra. Montserrat Clotet - Senology
Dr. Juan Luis Quesada - Otolaryngology
Dra. Olga Mas - Aviation medicine
Dr. Roberto Llerena - Cardiology
Dra. Susana Oliveró - Internal medicine
Dr. Aurelio Vázquez - Ultrasonographist
Dr. Manuel Sánchez - Nutrition
Dr. Jordi Sanmiquel - Vascular medicine
Dra. Cristina Schepers - Dermatology
Dr. Edmundo Tremps - Urology
Dr. Oriol Sola - Bone Densitometry
Head nurse - Roser Ródenas
Head secretary - Patricia Bel
---
---
F.A.Q.
Asymptomatic people who wish to know the precise condition of their health in order to identify what risk factors, if any, he/she is exposed to.
People with symptoms or who are already sick, in order to evaluate the repercussion of his/her disease on the other organs and prevent future pathologies.
---
Expert opinion
Dra. Susana Oliveró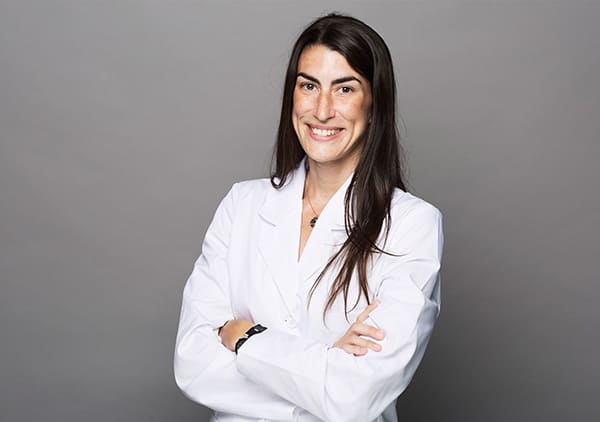 Medical examinations are aimed at evaluating health conditions and preventing or diagnosing early pathologies associated with age, sex and lifestyle, as well as the personal and family medical history.
Curriculum
---
---
Accreditations Main