---
---
Treatment
The Capillary Growth Factor is a technique of Active Capillary Biostimulation, that uses Platelet Rich Plasma, both therapeutic and preventive, whose objective is to stimulate the growth of new hair and to prevent the loss of the existing one.
It is a non-surgical treatment, which involves the application of "Plasma Rich in Growth Factors from the patient's own blood" using micro infiltrations in certain areas of the scalp.
The application of the Growth Factor in the hair follicle will help, among other processes, the transformation of collagen type I into collagen type III and the formation of new blood vessels, stimulating the new hair growth and the loss prevention of the exiting one.
---
Anesthesia
It is not required
---
Procedure
To obtain plasma rich in growth factors you simply need a small volume of blood from the patient, put it into tubes with an anticoagulant, separate the plasma fractions by controlled centrifugation and then use the plasma rich in growth factors, whose cells contain some granules (Alpha) very rich in growth factors. Although the infiltrations are well tolerated, topical anesthesia or local cold can be applied before starting the session in order to avoid any possible inconvenience. The number of sessions will depend on the level of the patient's hair loss, although usually 2 or 3 sessions per year will be enough to stimulate tissues and hair growth. Once the treatment is finished a light redness may appear, but it diminishes within the following few hours.
---
Benefits
The results are gradually observed. The application of Plasma Rich at the capillary level stimulates collagen production and increases vascularization at the hair follicle level; therefore hair loss is stopped progressively and its regeneration is reinforced in patients with moderate hair loss.
---
---
Expert opinion
Dr. Dorian González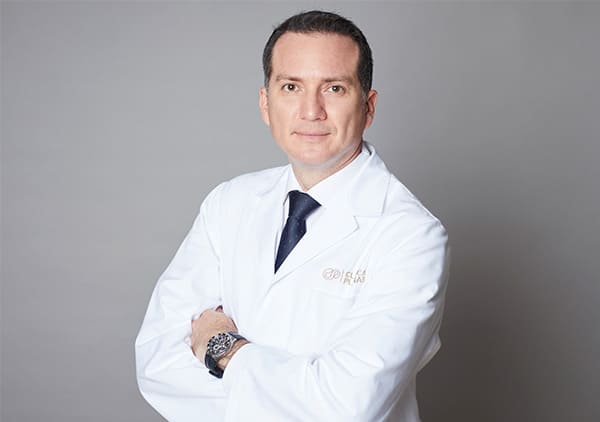 It is a therapeutic technique whose aim is to stimulate new hair growth, and also a preventive one, since it prevents the loss of the existing hair and can be combined with other techniques. The results are noticed progressively over time.

Curriculum
---
---
Accreditations Main