Surgery of the Facial Skeleton
Surgery of the Facial Skeleton

---
---
Introduction
To achieve a good aesthetic face is necessary to have a correct facial bone structure.

The facial bone structure may present alterations that make the patient's aesthetics and functionality quite complicate.

Some of these alterations are caused by congenital problems at birth, such as hemifacial microsomia, micrognathia, the Pierre Robin syndrome; or acquired alterations such as facial hemiatrophy or the Parry Romberg syndrome, mandibular hypertrophia and condylar hyperplasia. Also in cases secondary to surgeries, traumatisms or previous surgical treatments.

This may become evident when it is difficult to seal the lips at rest, the way that our teeth contact or the symmetry of our face; specially chin, jaw, orbit and ocular region, nose or nasal septum.


---
What does it consist of?
The surgery of the facial skeleton is carried out by the Unit of Maxillofacial Surgery at Clinica Planas. This surgery wants to improve and harmonize the facial structure by correcting the position of the non-symmetric structures; or the bigger or non-harmonic ones with the rest of the facial structure.

These surgeries are as follows: forehead contouring, cheek surgery, eye rim or bone mentoplasty to correct asymmetric chins with an excess or deficiency in its facial projection.

We also treat problems of lip incompetence and gingival overexposure that can cause discomfort.

Also, the asymmetries of shape and size of the jaw, and the secondary ones to alterations during growth are specifically treated by maxillofacial surgery. These types of surgeries include: shape correction of mandibular angles, or placement of prosthesis tailored to the patient needs, which improve or restore the defect.

Surgery of the forehead contouring can be indicated in association with hairline surgery. Thus, we achieve a more rounded forehead with a suitable length as well as hairline improvement.



---
Pre-Operative
In order to have a good diagnosis, it is necessary the assessment of the doctor specialist from the Unit of Maxillofacial Surgery of Clínica Planas, and a specific CAT scan according to the consultation needs.



---
Post-Operative
These surgeries have a good recovery and an immediate result of the correction.
Hospitalization is usually less than 24 hours and surgeries may be carried out under sedation or general anesthesia, on a case-by-case basis.



---
---
Expert opinion
Dr. Ramón Sieira Gil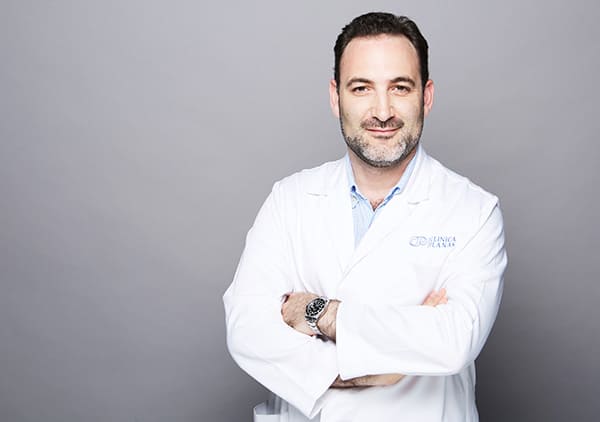 Today, with surgery and 3D planning is possible to personalize treatments and perform, if needed, specific prosthesis that help us to achieve the objectives
Curriculum
---
---
Accreditations Main